About the Exhibitions
We have three types of exhibitions available:
Original paintings for museums, art galleries and universities:
26 paintings by Nadia Werbitzky with QR codes
26 boards with passages from the book "Two Regimes"
These boards correlate with the particular painting
45 minute video on the history of the collection
22 minute Reader's Theater Educational video
Print exhibitions for schools and libraries:
17 boards of paintings and passages
9-Banner Exhibition – available for purchase:
9 high quality banners printed on high definition media
Each banner has it's own fabric carrying case
These banners come in 3 strong rolling pelican cases for storage
There are 3 banners in each pelican case
All exhibitions come with QR Codes as an enhancement to the viewing experience.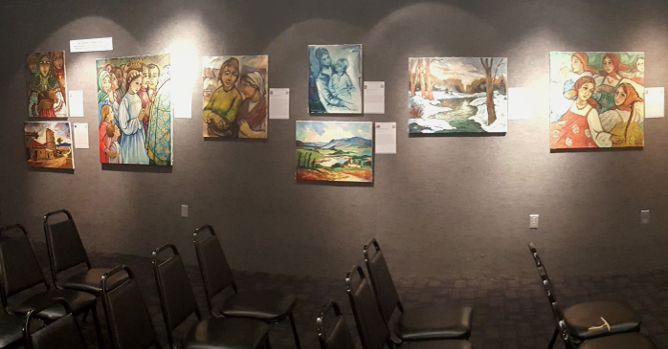 Book an Exhibition
To book our services by phone, please call us at (804) 608-6464.
To book by email, send a message to Info@TwoRegimes.com or use our contact form.
Narrative
Below is a narrative written by Nadia Werbitzky for one of her shows.
"The young girl who once lived in a far away land – Russia – never dreamed that there would be a dreaded war during which she would be taken out of her country to be placed in camps behind barbed wire for many years to come. It was Germany in War and it was the Fate of the Russian people. Those years of humiliation, hard slave labor, hunger and constant fear, left its imprint on the memories made by Nadia Werbitzky's paintings.

With the end of the war, while Europe was reshuffling its borders, Nadia did not waste time. Nadia entered first Meisterschule of Cologne and later the Art Academy in Dusseldorf, before immigrating first to Canada, and then to the USA. No matter where she lived, she painted the subject so dear to her heart, the people of her native Mother – Russia. Not likeness, but images, nobody posses for her, they are the people that she knew, the people that crossed her path. Nadia also takes her subjects from Russian History, literature, folk lore and music. The native folk songs play an important part she always listens to them while painting.

Many of Nadia's personal emotions are manifested in her painting of the natural beauty of the land, in nature and the people of Russian, that she loved so much."
Exhibition History
Nadia Werbitzky's one-woman shows include:
2016 – The Holocaust Memorial Resource and Education Center of Florida, Maitland, Florida
2013 – Langley Air Force Base, Virginia
2013 – Tallahassee Community College, Tallahassee, Florida
2012 – The National Infantry Museum, Columbus, Georgia
2012 – The Camp Gordon Johnston W WII Museum, Carrabelle, Florida
2011 – LeMoyne Center for the Visual Arts
2009 – Museum of Fine Arts, Tallahassee, Florida
2004 – Russian Memories  – Thomasville Cultural Center,  Thomasville, Georgia
2003 – The Claude Pepper Changing Gallery, Tallahassee, Florida
1981 – Souls on Canvas, Das House der Begegnung, Germany
1980 – Faces of Russia, Drasek Gallery, Munich, Germany
1979 – Gallery Wagner, Offenbach, Germany
1977 – Moering-Seng Gallery, Weisbaden, Germany
1977 – Moering-Seng Gallery, Heidelberg, Germany
1970 – Radio Gallery, Washington, D.C.
1970 – Russian People, Nebienschen Gartehoust, Germany
1962 – Mobil Art Exhibit, Iranian Ministry of Culture, Iran
1961 – Persian Variations, International Club, Tehran, Iran